Ecological Exile – new book by ESS member!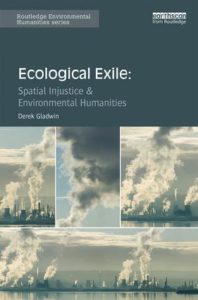 Gladwin, D. (2018). Ecological exile: Spatial injustice and environmental humanities. London, UK: Routledge.
Growing instances of flooding, population displacement, and pollution suggest an urgent need to re-examine the ways social and geographical spaces are perceived and valued in the 21st Century. Ecological Exile explores how contemporary culture confronts ecological crises through perspectives of spatial justice – a facet of social justice that looks at unjust circumstances as a phenomenon of space. Maintaining that ecological crises are largely socially produced, this book considers how representations of cultural texts (literature, media, film, visual culture) mobilize and educate populations about spatial injustices resulting from fossil fuel production and the effects of climate change.
This book offers a new spatial perspective in the environmental humanities by focusing on what the philosopher Glenn Albrecht has termed "solastalgia" – a feeling of homesickness caused by environmental damage. The result of solastalgia is that people feel paradoxically ecologically exiled in the places they continue to live because of destructive environmental changes. Gladwin traces spatially produced instances of ecological injustice that literally and imaginatively abolish people's sense of place (or place-home). By looking at two of the most pressing social and environmental concerns – oil and climate – Ecological Exile shows how literary and visual texts have documented spatially unjust effects of solastalgia.