The Distinguished Scholar Award 2018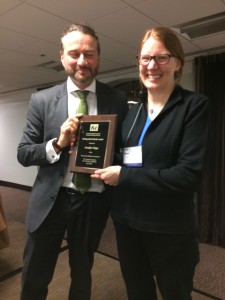 The Distinguished Scholar Award of the Environmental Studies Section of the International Studies Association recognizes outstanding scholars whose long history of excellent research and teaching has had substantial impact on fields associated with international relations and environmental issues.
The Environmental Studies Section is proud to announce Professor Jennifer Clapp as its Distinguished Scholar 2018.
She holds the Canada Research Chair in Global Food Security and Sustainability at the University of Waterloo, Canada. She is also a fellow of the Royal Society of Canada and was a Trudeau Fellow in 2013 and 2016.
Jennifer has been a unique inspiration for all of us with her outstanding scholarship and passion, and with her ability to build bridges among theory and practice, scholars and practitioners, environment and development, political science and economics.