Graduate Student Paper Awards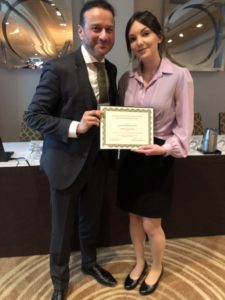 Graduate students are invited to participate in the ESS Graduate Student Paper Award Competition sponsored by the Environmental Studies Section of ISA. The award was established in 2011 to recognize the best paper with an environment-related theme presented at the ISA Annual Convention.
2019 Winner (presented at the ISA annual convention in San Fransisco 2018): Charlotte Grech-Madin,
Uppsala University, Sweden
Currents of Conscience Evolution and Operation of the Water Taboo
Water is now governed by a set of intersubjective standards of behaviour that denounce water's involvement in conflict as morally "taboo."
This paper explores how this water taboo developed from 1950s to 2010s, through process-tracing. Findings: (i) a moral aversion to using water weapons does in fact exist; (ii) it has evolved through successive and often overlapping mechanisms of norm strengthening in the past sixty years; and (iii) it influences nation state behaviour at both an instrumental level of compliance, and, in recent decades, more internalised level.
Read more about the award here: http://environmental-studies.org/?page_id=543