Journal of interest: Strategic Behavior and the Environment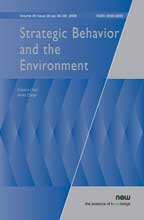 The increased level of policy debate regarding environmental and natural resources is well reflected in a rising trend of published analytical work that addresses the interaction between needed policies to better manage environmental and natural resources and the strategic behavior of those who are involved in its design and implementation, and those affected by them.
Environmental policy and strategic behavior has become a field that interests researchers from several disciplines in the social sciences, employing different methodologies while addressing similar research questions. Simultaneously, policy makers seek more help from researchers in the process of developing and implementing environmental policies.
Strategic Behavior and the Environment is intended to provide a platform for the various disciplines that jointly contribute to our understanding of that field.
This information is also located in Career Resources: ESS Journals