Call for articles – Asian Journal of Peacebuilding (AJP)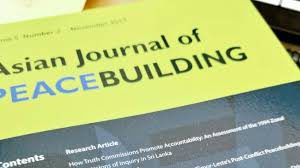 Asian Journal of Peacebuilding (AJP) welcomes submissions of papers written on conflict and peacebuilding issues around the world. Exemplary topics that AJP focuses on include but are not limited to: impact of climate change; environmental politics; reconciliation in divided societies or nations; migrants and refugees; anti-nuclear movements; historical and territorial disputes; ethnic and religious conflicts; violence and transitional justice; gender issues at conflict zones; democratic transition and human rights; and humanitarian assistance and intervention.
AJP is a peer-reviewed journal published by the Institute for Peace and Unification Studies (IPUS) at Seoul National University. The contents of the Journal are available or abstracted at EBSCOhost™ Political Science, EBSCOhost™ Academic Search, ProQuest Political Science, ProQuest Social Science, Sociological Abstracts, Worldwide Political Science Abstracts, and International Political Science Abstracts.
Deadlines is December 31 for the May issue, and June 30 for the November issue. The length of a research article should be between 6,000 and 10,000 words, including abstract, notes, and references. A research note should be no longer than 6,000 words. For the submission guidelines in detail, see the website.
Email: peacejournal@snu.ac.kr  |  Website: http://tongil.snu.ac.kr/xe/ajp