New Routledge book by ESS author Judith Nora Hardt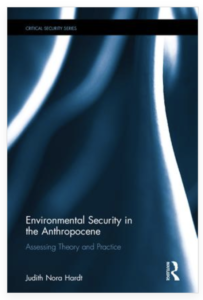 Hardt, J.N. (2018). Environmental security in the Anthropocene: Assessing theory and practice. New York, NY: Routledge.
This book provides a critical assessment of the theories and practice of environmental security in the context of the Anthropocene. The work analyses the intellectual foundations, the evolution and different interpretations, strengths and potential of the link between environment and security, but also its weaknesses, incoherencies and distortions. To do so, it employs a critical environmental security studies analytical framework and uniquely places this analysis within the context of the Anthropocene. Furthermore, the book examines the practice–theory divide, and the political implementation of the environmental security concept in response to global environmental change and in relation to different actors. It pays significant attention to the Environment and Security Initiative (ENVSEC), which is led by different programs of the United Nations, the OSCE and until recently by the North Atlantic Treaty Organization (NATO), among others, and has largely been overlooked in the academic literature to date. The goal is to study how environmental security practice could inform and shape the environmental security theory, and also to explore how, conversely, new theoretical insights could contribute to the enhancement of environmental security activities.